Collaboration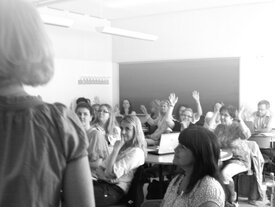 Schools and governing bodies
We collaborate with several compulsory schools in different parts of Sweden.
As part of service-to-society activities, we regularly carry out in-service training for teachers and school leaders.
Lectures part of in-service training for teachers and principals
Källkvist, M., Sundqvist, P., Gyllstad, H. & Sandlund, E. (2019). Språkpraktiker i flerspråkiga klassrum: engelska på högstadiet. Lärarnas forskningskonferens 2019. Kunskapsgymnasiet Globen, Stockholm.
Future English teaching: monolingual, bilingual or multilingual? The Humanities and Theology Days, Lund University, 21 April 2017.
English only in English teaching? Multilingual students' perspectives. Managing Learning, Stockholm City, 3 October 2018.
Research
We collaborate with several research groups and professional networks:
CSL (Centre for Language and Literature Education), Karlstad University
Educational Linguistics, Linnéus University
ROSE (Research on Subject-specific Education), Karlstad University
The Language Acquisition Seminar, Lund University
UFO-seminariet at Lund University
SISCO at Oslo University
Presentations and publications are listed under the tab with that label.