User guide
To the left in the Metadata Browser you will find the browse panel, which displays the archive as a tree structure. This is your starting point. RWAAI is organised the 13 recognised branches of the Austroasiatic family. Some branches are further divided into lower subfamily branches, but the level of granularity is dependent on areal expertise. The collections are grouped under the relevant language names, with each individual collection typically named after the creator. Information such as ISO code, geographic location or depositor's name can be accessed via the search function.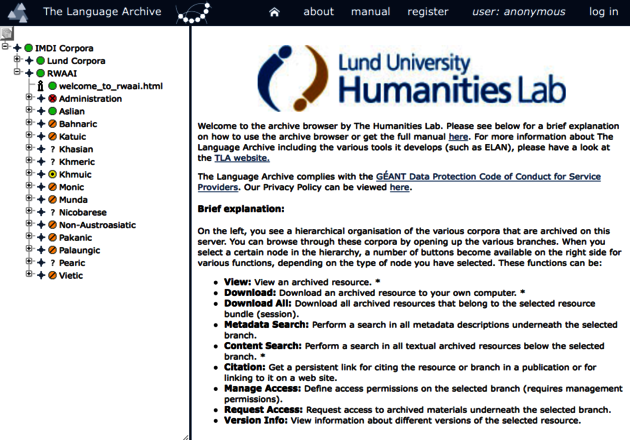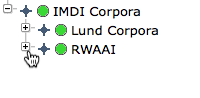 Click the plus-symbol to expand (The plus-symbol will turn into a minus-symbol.)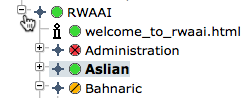 Click the minus-symbol to collapse the branch. (The minus-symbol will turn back into a plus-symbol.)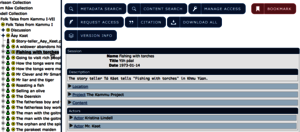 Click a node title to display information and options for that node/resource to the right.
Search for data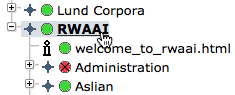 Click a node title to select the scope of your search.

Click "Metadata search" to the right to search that branch. If the search returns no hits, try adding a wildcard asterisk. E.g. "KJGKLAR*" represents any data with information beginning with "KJGKLAR", such as KJGKLAR721206_01A.
Please refer to the detailed guide for further details (also available by clicking "manual" in the top-right corner of the Archive Browser
Example: Selecting the 'RWAAI' node, means the entire RWAAI branch with all its sub-branches will be searched when clicking Metadata Search.
Download data
If you have download privileges for a branch (see
"Register"
), you can either download individual files or all files linked to a "session" (the little green sack in the tree).
Make sure you are logged in.

Download individual file: Click a file in the tree, then click "Download" to the right.

Download all files in a session: Click a session/green sack in the tree, then click "Download all" to the right (please click only once or you might initiate multiple downloads of the same data). The files will download as a zip-file containing all files. This might take the server a few moments to prepare.
Bookmark data
You can bookmark a branch or a file for later viewing.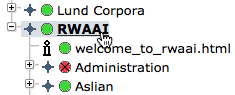 Click a node you wish to bookmark.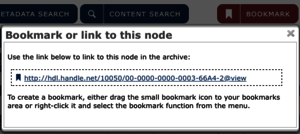 Click the red Bookmark-button to the right and pick one of the choices that follow.